Those Precious Pads: Winter Paw Care 101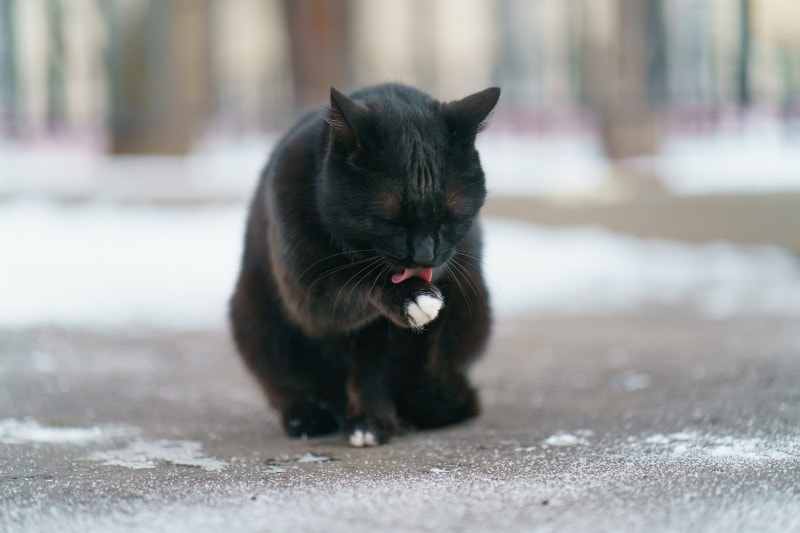 Your pet's paws are adorable, yet it's easy to imagine they're also tough-as-nails. After all, your pet uses them every day to walk, run, and play in all types of weather, and they don't seem to be affected at all…right?

As it turns out, paw pads aren't as indestructible as they might seem. Winter weather is particularly harsh and can wreak havoc on your pet's paw pads. Fortunately, you can avoid dryness, cracking, bleeding, and injuries from toxic winter chemicals with proper winter paw care.

Winter Paw Care
A solid winter paw care plan begins with grooming. The hair around the paws should be trimmed regularly to prevent the accumulation of ice and snow in between the toes. Nails should also be kept short, as longer nails can force the paws to splay out, leading to problems with gait and increasing the opportunity for snow and ice balls to settle around the pads.
Walking in a Winter Wonderland
When it comes to winter paw care, preparing your dog for the snow and ice ahead of time is key. With our tips, you can avoid paw pad injuries all winter long:

Apply a thin layer of protective balm to your pet's paw pads before each walk. There are many safe commercial brands on the market or contact us for recommendations.
Road salt and chemical deicers can lead to injuries and are toxic to pets if licked off and ingested. Take a few moments after each walk to wipe your pet's paws with a wet cloth and dry thoroughly.
Re-apply balm after the paws are dry to lock in moisture and to prevent cracking.
Weatherproof dog booties take some getting used to, but they can provide excellent protection from the elements. Make sure the booties fit snugly, especially around the leg. Boots that are too loose or too tight won't fully protect your pet.
When to Worry
In some cases, winter weather isn't to blame for damaged paw pads. If your pet continues to struggle with dry, cracked pads, please schedule an appointment with us. Underlying health conditions, such as allergies, autoimmune disorders, endocrine issues, or nutritional deficiencies, can all manifest as problems with your pet's paws.

As always, please don't hesitate to contact us with any questions or concerns!