Pet heat stroke is a life-threatening medical emergency that affects all pets regardless of age, species or breed. The symptoms are most common when the weather is hot and humid, but can also result from strenuous over-exertion or confinement in tight spaces (like a parked car). This means that even though the season's changing from summer to fall, pets remain at risk. Prevention is definitely the key, but immediate recognition and treatment are critical toward a positive outcome.
Taking Stock
Pet heat stroke happens when the body cannot regulate body temperature. Impacting the entire body, pet heat stroke can damage the nervous system, alter normal cellular and enzymatic functions, injure the tissue, and collapse circulation. Left alone, internal temperatures hovering over 106 degrees can result in fatality.
As mentioned, all animals can suffer from heat stroke, but some pets, like those with short muzzles, the young and senior pets, and those with other health issues are more prone.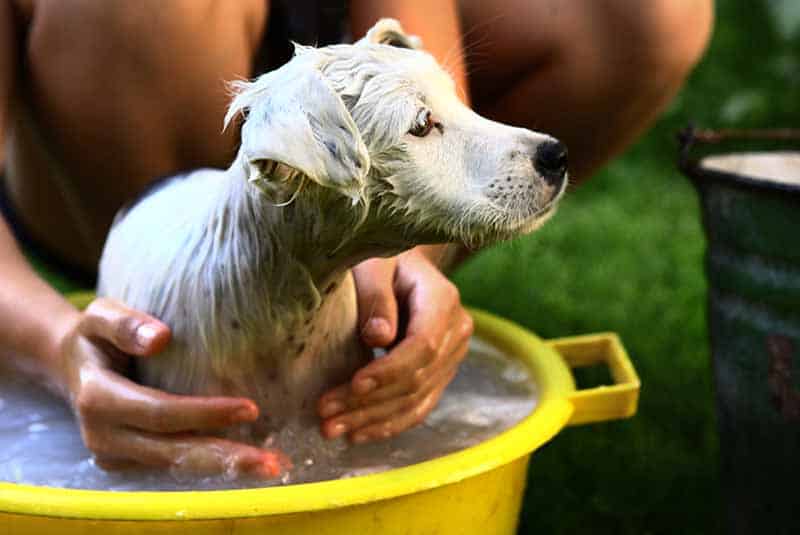 Do you have a dirty dog or a dusty cat? We feel your pain. Summer is prime time for animals to experience the great outdoors, and for some, that simply means rolling around in it. Dirt or dust baths, river time, and frolicking through the grass all make pets happy campers, but can contribute to a mighty seasonal stench. Wondering how often you can or should be bathing your pet in summer? We've got you covered.
Summer "Do"
Many dogs get haircuts in the summer to keep them cooler and cleaner. This makes sense, but it's not the right move for every dog breed out there. Talk with your pet's regular groomer to learn what summer "do" works best for your individual dog's breed and lifestyle. For example, a shave may not be the best option for pups with thick double coats. Continue…
If it seems like every season comes with its own set of pet safety precautions, it's because, well, they do! As far as health threats, they all have things in common, but each one also has its own risks connected to certain holidays or events. Without a careful look at these specifics, spring pet safety can quickly become relegated to the back burner.